Explore the appeal of ADTRUCKS
Take the proven appeal of model  trucks and add the extra impact of a quality scale model.
Choose from an exclusive selection of models, from panel vans to big trucks, carefully produced with the experience of ADTRUCKS with your artwork – and you have a sure recipe for a successful promotion!
Scroll down the page to review your options, and choose the best option for you.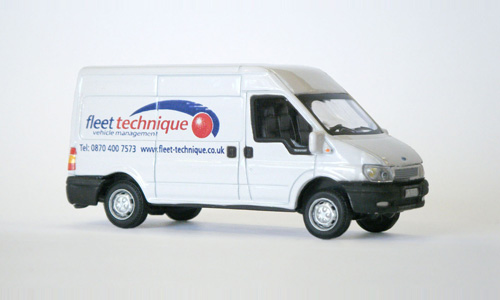 C17 & C18 Ford Transit Van
The ever popular Ford Transit van is now available to choose from in two scales, 7cm / 3 ins long (ref C17) and an impressive 12cm / 5 ins long 1.43 scale version (C18).
Print area C17: 35 x 15mm + rear doors, lower sides, cab doors and front. C18 1/43 scale: 58 x 25mm side panel, rear doors, bonnet, cab doors.
More vans below.
C24 Panel Van
When a Ford van doesn't work for you, we have the option of our generic panel van also available in stock. 9cm long with right-hand drive and high roof giving a good branding area.
Print area: 40 x 20mm + lower sides, cab doors, bonnet & rear. Available in white or can be re-coloured to your requirements.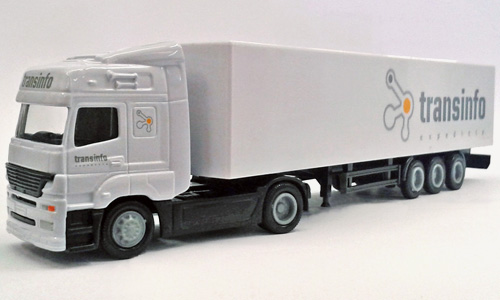 C59 Adtruck in 1.64 Scale
Make a bigger impact with this impressive truck – 26cm / 10ins long, in 1.64 scale, superbly detailed and just right to present your graphics. Good print areas on sides: 205 x 38mm, also rear and cab available for branding – ask for details with your artwork now, it's surprisingly affordable!
Model ref C59 Truck in 1.64 scale
C39 Truck Series in 1/87 Scale
Choose from the ADTRUCKS selection of modern trucks, all well detailed in 1.87 scale, 19cm / 7.5 ins long. Print area is a big 145 x 29mm each side plus rear doors and cab, so the promotional opportunities are enormous.
Each model comes attractively packed in a clear plastic presentation box.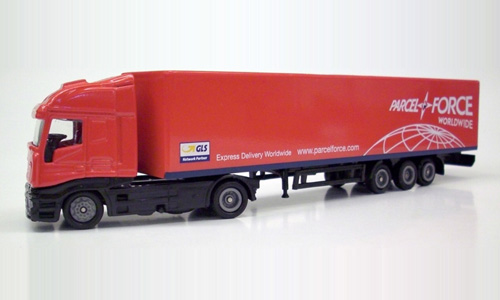 Brand New: All Metal Trailer When a Premium Gift is Required
All cabs & trailers can be colour-matched to your requirements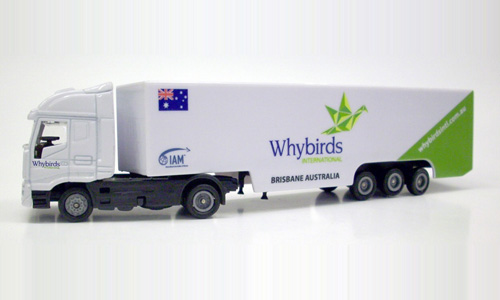 Optional Sideskirt Trailer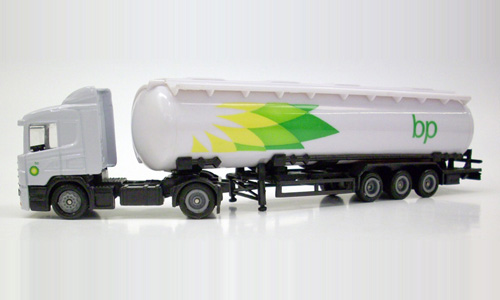 Tanker model available too
Choice of Cabs
Choice of cabs from stock
Daf 105XF
Mercedes Actros MP4
Scania R6 Topline
Volvo FH04
Rely on the experience of the specialists in promotional model trucks.